The days of the SEO Wild West are over. There is a new sheriff in town and it comes in the form of Google's Penguin update. He rides his majestic stallion from website to website locking people up (penalizing) for breaking the law (Google's Quality Guidelines).
Alright, enough with the lame introduction now let's get to the point. Last week I did a post on how to determine if your law firm's website was affected by the penguin update. Just for a quick refresher you can either be affected by receiving a manual penalty or you can be affected by an algorithmic penalty (which is not really a penalty although it may seem that way).
Regardless of how you were affected there is one thing that is for certain. Your law firm's website has lost nearly all of its rankings, your traffic is down to almost nothing, and you are losing more and more cases/money every day to other lawyers whose rankings are stronger than ever.
Many law firms have found themselves in this situation and there is only one way out. You must make a plea bargain with Google for them to lift your penalty if you ever want to get your rankings and traffic back.
First, you are going to have to do community service in the form of cleaning up all of your spam links from the web. Then, you are going to have to plead guilty in your reconsideration request. And finally, you will be put on probation meaning Google is going to keep a closer eye on your website after you have your penalty has been lifted.
Sounds easy enough but this is actually going to take a tremendous amount of work and great deal of time before your sites penalty is lifted and your rankings/traffic begin to increase again. With that being said, let's not waste another second and dive right into the nitty gritty.
Step 1 – Talk to your SEO Agency / Link Building Company
This is very important. Many law firms might be tempted to fire the companies that have got them into this mess right away but this is not a good idea. Your old SEO's or Link Builders could be the easiest way out of your penalty.
In my experience I have found that some SEO companies keep fairly good records of the links they build and also keep fairly good records of the login information they used to create spam profiles, forum posts, comments, etc. This would be the best case scenario. If you maintain a good relationship with these companies they may be willing to remove these links for free or more often than not they will remove the links for a charge. And if they are not willing to remove the links they might be able to provide you with all the links they built along with any associated login information.
Then once they have removed the links or provided you with all the information you need…FIRE THEIR SPAMMY LINK BUILDING A$$!
Step 2 – Identify Spam Backlinks to Your Site
Just in case you do not maintain a good relationship with your old SEO Company or they are not willing to remove the links, you are going to want to be able to identify these links yourself. And even if your old company does remove the links there will more than likely be a large number of links that they were not able to manually remove so this will still be a very important step.
First, you will need to download all of the backlinks to your site. To do this you need to login into your Google Webmaster Tools Account and click on Traffic: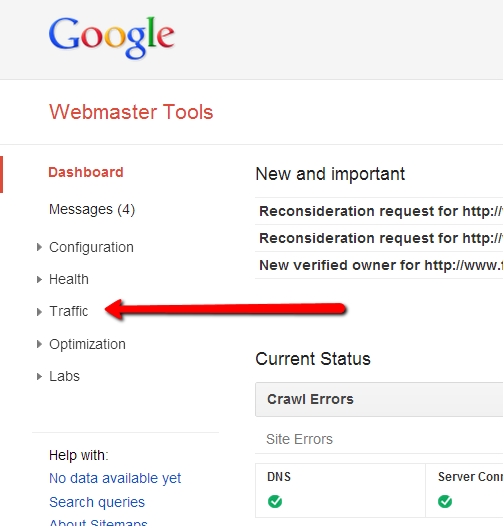 Then Click on Links to Your Site: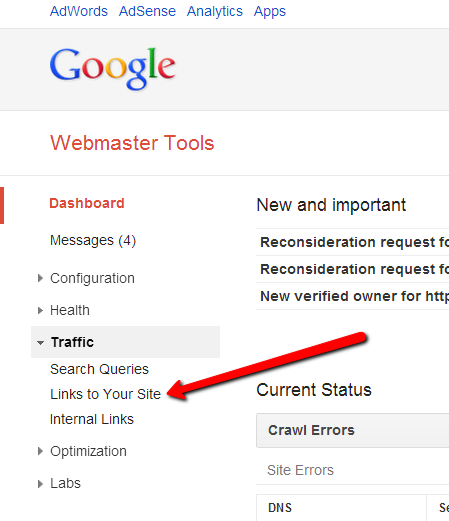 Then under the "Who Links the Most" section, click on More: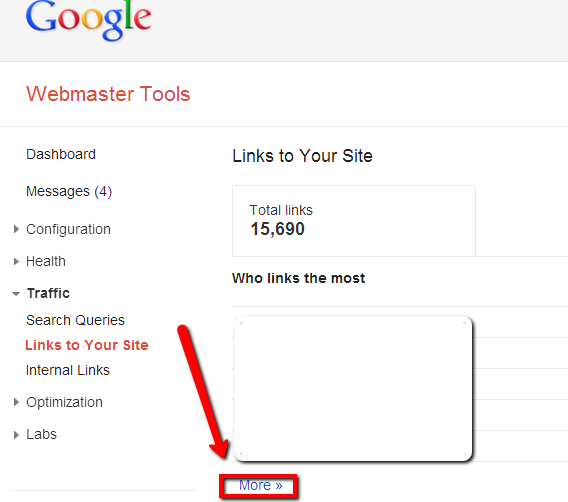 Then Click on Download Latest Links:

Then Download the file as a CSV.
Now this is when the real fun begins. You get to see first hand all of the spammy crappy links you have been paying an arm and a leg to have built to you your site.
Open the CSV file in excel and open the "find" feature. You can do this by pressing ctrl-f.
Type in the find box "forum" and then click find all. In the find box a preview pane will open showing all of the URL's that have the word "forum" in them? These will be in the "Value" column in the preview pane.
Select all of these URL's. You can easily do this by selecting the very first URL then scrolling down to the very last URL and hold the "shift" key then click on the very last URL.
Copy all of the selected links. Do this by clicking outside the Find box somewhere above the excel toolbar and then clicking ctrl-c.
Paste these links in a new spreadsheet.
Go back to the previous sheet and delete all the selected links to avoid collecting duplicates.
For more instruction on this process watch the video below:
Now repeat this process finding URL's containing any of the following words:
Forum
Member
User
Profile
SEO
Submiturl
Addurl
Submit
Directory
Backlink
Comment
This should catch the majority of spam links coming from forum posts, forum profiles, web 2.0 profiles, directories, and comments.
WARNING: This will not catch 100% of the spam links. This is just a strategy I developed to discover the majority of the spam links as easily as possible and in most cases this will be enough to get your penalty lifted if you can remove most of these.
DOUBLE WARNING: You may catch some legitimate links in here so it may be a good idea to give your end list a once over and scan for any good links. In the event you do accidentally remove some good links should not deter you from doing this. The amount of harm the bad links are doing significantly outweighs the help that any of these good links may provide.
Step 3 – Compile a List of Root Domains the Spam Links Come From
Often times when you have one of these shady SEO companies do link building for you they will create multiple links from the same website or root domain. This is especially prevalent when link builders focus on forum posts, forum profiles, comments and other links of that nature. Sometimes there may even be hundreds of links from the same root domain. Being able to have a comprehensive list of all the root domains your links come from will help out a lot in some of the later steps when you have to email webmasters for link removal and when you have to disavow links.
Here is what you need to do to make this list:
Open your excel file with the list of spam links you created in step 2.
Take the first link and copy the root domain into another worksheet.
Go back to the spam link work sheet and find all of the links from that domain. Press ctrl-f and enter that root domain into the search bar. Click Find All. Select all of the links. Press ctrl-c to copy the links. Paste the links in the column under the root domain in your other work sheet.
Go back to previous sheet and delete all selected links to remove them from the list.
Continue this process until you have gone through all of the links in your excel file.
Step 4 – Email the Webmasters and Request Link Removal
If your old SEO Company was unable to manually remove your spam links and if you were unsuccessful at manually removing any of them then this step is crucial in getting your penalty lifted. If you are still on good terms with your SEO Company and they are trying to help you lift your penalty then they may be very helpful in this process. I have even worked with clients where their old SEO Company did this entire process for them. However, in case you are not so fortunate, I will show you exactly what you need to do.
First, you need to compile a list of the webmaster/owner email addresses for all of the root domains on your spam link list. You are going to want to create a new excel file with all of the spam root domains where you can keep track of all the associated contact information.
There are a couple of different ways to find the webmaster/site owner contact info:
Manually search the site for a contact page or about us page
Perform a Google search command function – Type the following into the search bar "site:exampledoamin.com "email" – This will show you all of the pages that have the word email in them on the specified domain.
Do a Whois lookup. Try using http://who.godaddy.com/ if the website does not have private registration then most of the time the owners email address will be listed.
If an email address cannot be found then send in your email using a contact form on the website.
If an email address cannot be found and if there is no contact form then mark that in your excel sheet. This will be an important piece of information when you send in this excel file with your reconsideration request.
Now that you have created your list of emails it is time to compose the template you will use when sending out your link removal requests. The email should look something along of the lines of this: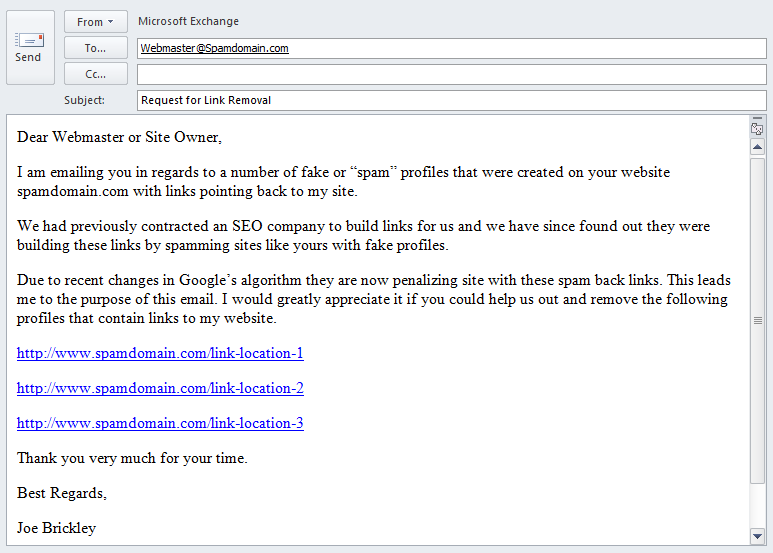 It is very important that you customize the emails to each particular website and that you send out the emails one by one. If you send out a generic email to 500 webmasters that is not tailored to them specifically and that does not list out the locations of your backlinks on their particular site then your chances of them removing the links are slim. Also, if you send out a mass email then it is very likely that your message will get caught in a spam filter or get sent to the junk folder automatically.
I know you want to get this process over as quickly as possible but please just do the extra work and get it done right on your first attempt. It will save you a lot of time in the long run.
It is important to note that you need to keep track of all the emails you are sending out in your excel spread sheet. Information to be included should consist of the date the email was sent and the status of the email (Sent/Delivered, Received reply, Removed Links, or Error/message undeliverable). This is important information that will be included in your reconsideration request. Try formatting it like the form below:
| | | | |
| --- | --- | --- | --- |
| Link URL | Webmaster Email | DateRemoval Request Sent | Link Removal Status |
| Spamdoamin.com/link | info@spamdomain.com | 1-07-2013 | Link Removed |
Step 5 – Follow Up
This step is fairly simple. After a week or so if you have not heard anything back from the webmaster/site owner then it is time to send a follow up email. You will need to create a new message template for your follow up email and it should look something like this: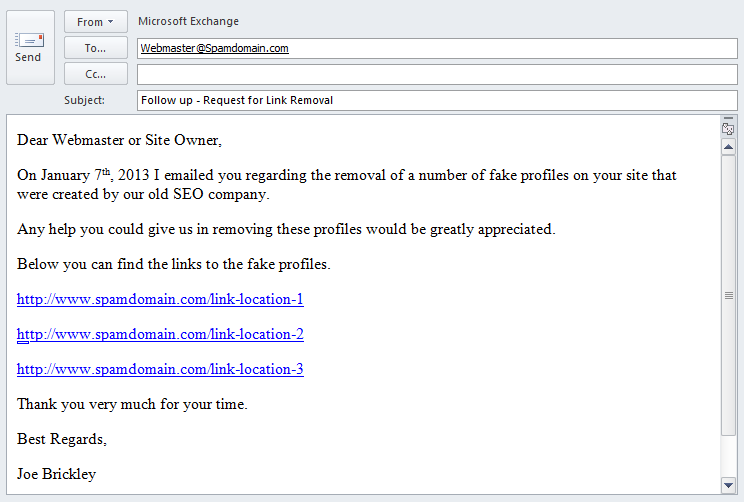 The same rules from step 4 apply here as well. Do not send out mass generic emails and keep track of your follow up emails on the same excel sheet as before. Make sure to include the date the follow up email was sent and the email status.
I would recommend sending at least 2 follow up emails. Each follow up should be sent no less than a week after the previous email.
Step 6 – Disavow Remaining Links
Hopefully, if you have followed all the previous steps correctly, you have been successful in removing a large portion of the inorganic backlinks pointing to your site. However, unless you were able to remove 100% of the spam links, this will not be enough. You have to use Google's disavow tool to take care of any remaining links. The disavow tool tells Google not to use the links you specify when determining the ranking of your site. This basically means that Google will no longer count the disavowed links.
Here is how you disavow links:
Create a .txt file that lists all of your spam links by copying all of the links from your excel sheet and then pasting this list in notepad. Then save the document as a .txt file.
You can disavow your links 1 of 2 ways. You can either disavow every single link individually or you can disavow an entire domain. The only time you should disavow the links individually is when you believe that there are some good links on a site which some spam links reside as well…which is almost never the case.
I would strongly recommend disavowing entire domains. The reason why you want to disavow all links residing on a root domain is because there may be links that have not yet been indexed still on the site. If you only disavow individual links then there is a strong possibility that more spam links from these domains could pop up again in the future.
Also, it might is a good idea to not only disavow the links that you were unable to remove but to disavow all of the links you believe to be spam even if they have been successfully removed. The reason for this is because it may take the Google spiders weeks or even months to recrawl the pages where your old spam links were located. If you disavow everything you might see results a little quicker.
To disavow an entire domain you must use the domain command in your .txt file. This is very simple, just place a "domain:" in front of all the root domains you want to disavow. Example Below:
domain:spamdomain.com
domain:linkspam.com
If you would only like to disavow individual links the just list out the URL of the link location. Example Below:
http://www.spamdomain2.com/contentA.html
http://www.spamdomain2.com/contentB.html
http://www.spamdomain2.com/contentC.html
Once you have completed your .txt file then you need to upload it into your Google Webmaster Tools account.
Go to the following link https://www.google.com/webmasters/tools/disavow-links-main
Select the website you would like to disavow links to from the dropdown menu.
Click the Disavow Links Button.
Click the Choose File button then select the .txt file you created with the links you would like to disavow.
Click Submit.
Boom…Your spam links are now disavowed.
IMPORTANT NOTE: Some of you might be asking, why can't I just skip the first 5 steps and disavow all of the spam links right off the bat?
Google has stated multiple times that using the disavow tool alone without any other efforts will NOT be enough to have your penalty lifted. They want to see a "Good Faith Effort" that you have done everything in your power to clean up as many of the spam links as possible. They wouldn't make it that easy for spammers to get over there penalties, they want to punish them a little bit.
The disavow tool is to be used as a last resort after you have exhausted all other avenues of removing links.
Step 7 – Send Reconsideration Request
FINALLY! We made it. After weeks and weeks of blood, sweat, and tears (too dramatic?) we have made it to the final step. The reconsideration request. This is where you get to plead your case to Google and explain to them how you got into this situation, what you have done to fix it, and how your SEO strategy has changed.
You will need to prepare 3 documents to include in your reconsideration request:
A Google Spread Sheet containing all of the links you were able to remove manually.
A Google Spread Sheet containing all of the links you were unable to remove manually and the attempts you made to contact the site owners via email with your link removal requests.
A Google Doc containing a list of all the links you disavowed.
Once you have these 3 items ready you can begin writing your reconsideration request. I will not tell you exactly what to write because I feel like everyone's situation is different but I will give you some general guidelines on what you should include.
Start off explaining why you believe you were penalized. Talk about the link building tactics you used. Admit guilt. Tell them whether or not you used an SEO company and if you did use a company make sure to list the companies name and website.
Next you should explain the process you went through to manually remove links and include a link to the Google spreadsheet outlining the successfully removed links.
Next discuss how you contacted all of the webmasters of sites where you were not able to manually remove links. Explain how you made multiple attempts at contacting them. Include a link to the Google spreadsheet that outlines the links and your email contact attempts.
Now talk how after exhausting all of your resources and after working diligently for months there were still some links you were unable to remove. As a last resort you were forced to disavow these links. However, you are still working to remove these links even after you disavowed them. Include the Google doc that lists out all the disavowed links.
Finally, explain how you made a mistake by trusting your old SEO company and how you no longer focus on "link building" rather you focus on providing a great user experience and producing high quality and useful content that visitors will hopefully share naturally.
Once you have crafted the perfect reconsideration request go to this link https://www.google.com/webmasters/tools/reconsideration
Choose the site you will be submitting the reconsideration request for.
Click the checkbox.
Copy and paste your reconsideration request into the text box and click the Request Reconsideration button.
And now you wait….
You should receive a response within 7-14 days, however, it could take upwards of a couple of months. I have experienced reconsideration requests being processed in as little as 2 days. But I would expect to wait at least a week.
Once you receive your response from Google they will either grant your reconsideration and lift your penalty or reject the request and your site will remain under penalized and you will need to take further action. Hopefully, if you followed all of these instructions and put in the hard work and dedication to do it right you will have your penalty lifted and you will recieve a message like this: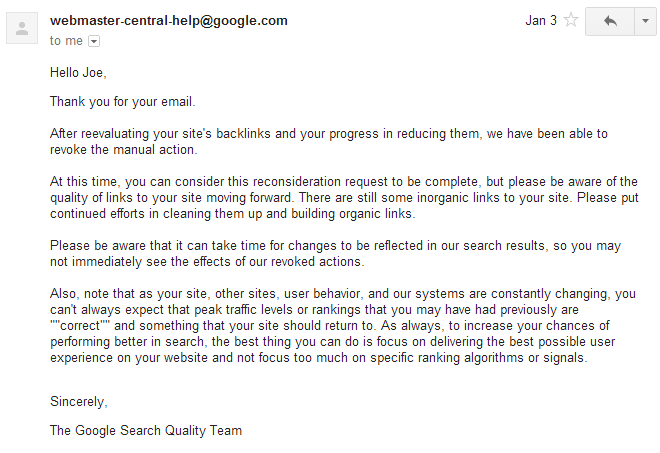 If you manage to get your penalty lifted then you can expect to see an increase in traffic and rankings in as little as a few weeks but could take upwards of a few months or more. But before you get too excited it is important to understand that you will probably not regain your rankings you had before the penalty. If you are lucky you will return to 50-75% of your pre penalty traffic. You will need to focus on earning high quality relevant organic backlinks in order to regain your sites authority.
If your reconsideration request is denied you will recieve a message like this: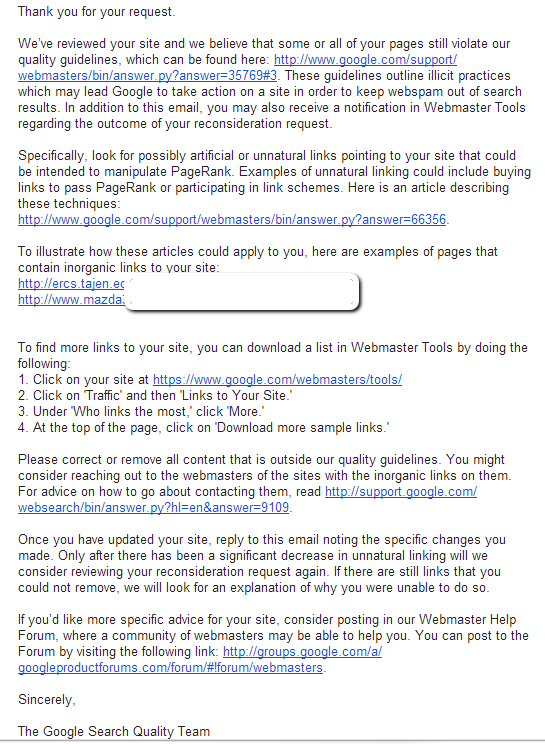 In the event that your reconsideration request is denied Google believes you have not done enough to clean up your link profile. The most important part of this process is proving to the Google Search Quality team that you have made a "Good Faith Effort" to remove as many of the spam links as you possibly can. That is why it is so important to only use the diavow tool as a last resort.
If you have been denied you will need to do a more in depth search of your back links using more then just the Google webmaster tools links. There are a few other tools including Open Site Explorer and Majestic SEO that can help you look deeper into your back link profile. Also, you may need to take more hands on approach in idetifying which of your back links are spam rather then using the search funstion I showed you in excel. I will dive deeper into these strategies in another post.
If you believe you did everything correctly and did not miss anything there may be some other underlying issues which are a little more difficult to diagnose than link spam. If you think fall into this category then hit me up on Twitter and I will personally take look at your website to see what the problem could be and help you indentify possible solutions.
Did this article help you overcome a penalty? Do you have any advice from your own experience that could help other law firms beat their penalties? Share it with us in the comments below!