You've read about the importance of blogging, and you know that it's an effective way of driving business to your website. You believe the marketing experts when they say consisted blogging results in new clients for your law firm. You understand that blogging is a particularly effective at drawing in readers and establishing your web presence as an industry authority.
But knowing this, doesn't help you find regular topics to write about. Writing good attorney generated content is a frustrating experience when you don't know what to write about.
If you've read blogs for any length of time, then you know bloggers write about any topic under the sun – some coming up with interesting topics that make you want to keep reading, while others only offer nonsensical information. To help narrow down your topic ideas, we've listed a few ideas below to help get your thought process wheels turning:
1. News
Bring relevance to your blog and demonstrate expertise in your field by writing posts about current events, recent news developments and headlines. Topics of this nature might involve:
New legislation that impacts your legal industry
New court rulings
Breaking legal news
Law trends within your specialized legal area
Case analysis
Record victory outcomes
To find resources for this type of blog post, you don't have to go on an all out Google search. Just set up a Google Alert to that will send an email to you when news relating to your key phrases turns up. Review the news and prepare an article, summary or review of the information.
How to Set Up A Google Alert
Click on the following link www.google.com/alerts. When the web page appears enter the type of law you specialize in and the type of information you are interested in being notified about. Your categories are: News, blogs, video content, discussions or books. Any of these offer relevant up-to-date information on your industry. You can ask to be notifies as frequently as you want. Enter the email address where you want to be notified and click "Create Alert."
- Note: If you don't want to receive the Google Alerts to your email account, just type in your law specialty in the "Search Query" and choose the type of information you want. The latest information posted to the Internet relating to your query will appear in the right hand column.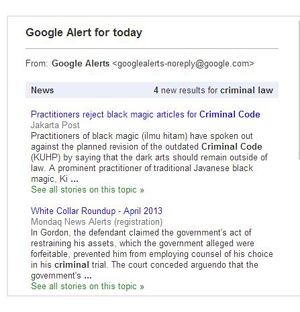 2. Information
Mix your news posts with informational articles that guide readers toward the answers they are looking for. Think of questions your clients have asked of you, doubts and concerns they have and use this information to write posts. If you're still stumped for ideas, look at question websites like Quora or Yahoo Answers.
Although these may not be fully thought out topic ideas, the questions can lead you into the right direction.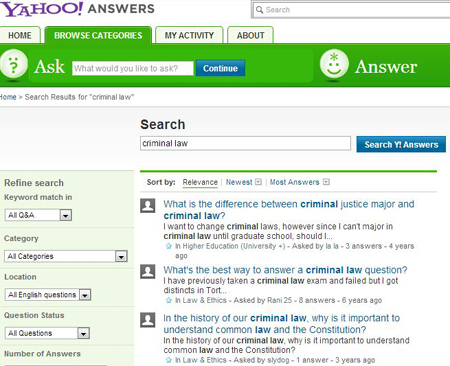 Good topic ideas might include:
Answers to client questions
Case analysis
FAQs
Generalized fee information
Step by Step processes
Polls
Industry myths
Legal Strategy process
Tips
Do's and Don'ts
Specific Laws
Legal Book or Paper Reviews
Industry Predictions
Inspirational law stories
3. Announcements
Use your blog to post internal news or to summarize a press release. You can add information about:
New attorneys
New locations
Court wins
Personal thoughts
Awards and recognition
New technology in the legal field
Community service activities
You want to add this type of information sporadically, keeping it to a minimum. This may be the easiest type of content for your legal blog, but it can also get boring very fast. Adding this type of information with no supporting content of interest may not be relevant to your client's needs.
4. Show Your Experience
The more you showcase your successes, the better your brand your law firm. Showcasing the talent of your firm and team will help build trust in your readers and consequently gain you more clients. Topics in this category include:
Case studies
Success stories
Humanitarian stories
Answers to questions
5. Create List Articles
These are probably the easiest articles to write and are extremely popular with readers. These always start with:
The top 5 ways…
10 reasons to….
5 Top secrets….
5 mistakes…
The Importance of Keywords
While finding a topic of interest is your most important task, once you do find a topic you want to choose a few keywords to use in the context of your written piece. Keywords are two to three word terms a searcher might use to find information on your topic; these are the words he types into the Google search box. By using a few of these relevant terms in your content, you increase the post's chances of being indexed better for those key terms on the search engines.
The key to finding the right keywords lies in your using specialized online keyword tools like Google Adwords, or Wordtracker to conduct a keyword search on your given topic. Type in the topic you are writing about in the tool search box, and it will present a list of keywords searchers use to access similar information. Select two or three keyword terms that relate to your topic and include these when possible in your post.
Here we have used 'Criminal law' as the generalized topic.
The list that Google Adwords generates from this general keyword topic are search terms related to this initial term that actual searchers have used in the last month to look for information on this industry. Not all of these terms will fit in the context of your post, but you can usually find one or two that fits in naturally with your topic.
Using keywords in your posts is important but you don't want to overuse them. Just select one, two or three of the most relevant keywords and try to include them naturally in the context of your written piece.
Bottom Line
Basically, adding content to your blog is about putting yourself in your client's shoes, thinking of their concerns, interests and questions, then writing a good article that addresses some of these issues.
How do you find awesome content ideas for your blog? Please share any tips and tricks you have in the comments section below!
Still have writers block? If you are still having trouble thinking of new and interesting article ideas for your law firm's blog please message me on twitter and I will be glad to help you brainstorm! @JoeBrickk